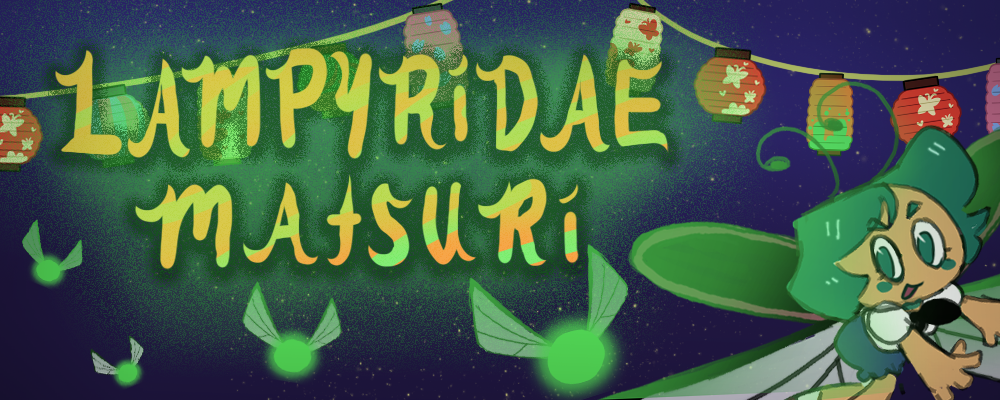 Lampyridae Matsuri
Summer nights have hit Gensokyo once again, and with Summer nights come Summer Festivals. All of Gensokyo's residents gather in the village to celebrate with games, snacks, and a spectacular fireworks display to rival even the most dense of spell cards!
What they don't know is that Wriggle and her troupe of fireflies are an integral part of the celebration. Like a swarm of Danmaku, Wriggle leads her legion of lampyridae to give the festival their blessing and light up the night. This year, you have the honor of helping them out!
Unfortunately, some of the villagers see the hard working insects as nothing more than a nuisance. Be careful out there!
Credits:
Programming/Animation/VFX - Brian Intile
Character art - Mir Nuñez
Environment art - Jenn Li
Music/Audio - Mothlarvas

夏の夜は再び幻想郷を訪ねてきた。夏の夜といえば夏祭り。幻想郷の住民たちが里で集まってゲームをしたりおつまみを食ったり、スペカ花火大会とかやったり、とんでもない時期なのだ。

一般参加の方々は多分知らないが、この祭りの影の主役はリグル・ナイトバグというホタルと彼女の友だちでした。リグルさんはホタルの大軍を仕切って、いつも大会の照明役をやってきました。その彼女のだちに惚れて貴方は今回の大会でその彼女だちを協力することとなった。

残念なことに、人間たちはその働き者のホタルたちを害虫にしか見えないのようだ。他の人間たちを避けて慎重に進みましょう。